X Hello ♫ ☺✩ ♥ SONIA ♥ ☺✩ ♫, you're in the rainbowX dogs and we think you deserved to be in the spotlight this week. CongratulationsX on being voted as our dog of the week in the Spanish Speaking Site , isn't that exciting? What would you like to say all your friends who made this possible?X 
WOW! It's, a fantastic surprise.X I am very happy, because I'm Dog of the Week, on the Spanish side UD.X X X X X
Can you tell us briefly how you came to live with your familyX ? Do you remember anything in particular?
The whole Jalanta's family came to my dog-mom, to choose puppy. Jola look at all our canine litter, and she immediately noticed me. X X
From that moment I was the only beloved family dog.X X X
Your birthday was a few days ago? Tell us how do you pass it in the RainbowX ? Now that you are the X Queen of the week, Do you think you'll have a celebrationX with your friends at the Rainbow BridgeX again?

My Birthdays I spent very nice, everyone really love each other here.X X X Now, as we celebrate, I'm very happy with such a prestigious title: Queen of the Week on the Spanish-speaking countries UD.X X
Please, tell us how you spent your day at the Rainbow Bridge?X X 
Here the day lasts all the time.X And, I'm always thinking about my life on Earth. My Family very cared for me, I was the most loved member of the family.X
X
You lived with Piglet - Baby (guinea pigX ) & Pika lady catX , Can you tell us about them ? Were you very agood friends?
With Prosiaczek we were very liked (Prosiaczek was a girl).
We often kisses. She scratch me behind his ear, I licked her, my big tongue.X
Pika came to us, when I had four years, and she's 1.5 years. I knew her as much as 9 years. Our the relationship was indifferent.X
You seem a pretty girlX ♫ ☺✩ ♥ SONIA ♥ ☺✩ ♫, but there must have been some naughty X things you did! Tell us, the naughtiest thing you have ever done?X X 

 
I was very polite and obedient dog, I do not remember any "great" mischief. No one complained to me.X X
Ah!! You have such a beautiful name ♫ ☺✩ ♥ SONIA ♥ ☺✩ ♫, how did you get it?
In our house was a contest for my name. My daddy won this competition.X
To most of us, can you tell us a little about your neighborhoodX or the surroundingX where you lived?
Around my house was a great forest. I had a lot of space to run and play.X X X X X
If you could pass on a message X to your family X here on earthX , what would you say to them? And what would you like to say to your friendsX X who still remember you?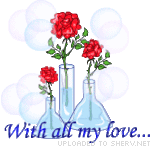 I miss them, but I feel good here, because there is no diseases here, and nothing does not hurt me. I send kisses to all on Earth.X X X X X X
Thank you ♫ ☺✩ ♥ SONIA ♥ ☺✩ ♫, for taking the time to answer all these questionsX . We hope you have a pawsome weekX X at the Rainbow BridgeX and here in the Spanish Speaking siteX . We can only wish to spend a perrigenial week X X X  as Queen X X ♫ ☺✩ ♥ of UD and enjoy much of the celebration.X X X 
I wanted prettily to thank all the friends for their votes. Thanks to they, I can this week be a DOG OF THE WEEK.XX X X X It is great honor for me to visit a very beautiful Spain.XX X X X X X