We have a very special angel to be our English royalty this week, lovely Queen Sonia!

Are you happy to be our English queen, sweet angel?

Will all the angels celebrate?
I am very happy to choose me on DOTW UD.en. X X X
Yes, I think we will all celebrate here, throughout the week X
You made your journey to the stars five years ago on October 27, 2013.

What has life been like as an angel?

Can you tell us about the Rainbow Bridge?
I do not feel pain here, I feel very young X
However, I miss my earthly family very much, especially for Jola X
You lived on earth for 13 years. What do you miss most about your family?
I miss my earthly family because they are not with me. X On the ground we were together all the time, we played, we drove a car, we went on trips, and Jola gave me tasty meals X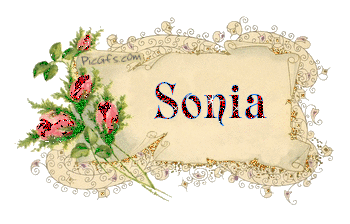 Can you tell us about yourself and what kind of character and personality you had?
Jola always said that I was very polite, obedient, cheerful, and very much loved X X X
What made you a special girl, and your family misses the most about you?
Because, I loved everyone X X
I gave my mouth and X - thong X
At the Rainbow Bridge you spend your days running and playing with all the other angels. When on earth, what did you like to do in a typical day?

Did you have a favorite toy?
I loved playing with the ball, she was running away and I was chasing, I tossed X X
Besides your family, what made you the most happy in your earthly life?

Was there anything you didn't like?
There was a forest near the house, I could go with him to go on trips with my family every day. We walked with two mongrels, and we ran together. X X
How did you come to live in your nice home?
Jola, she chose me from among my siblings. She said that when she saw me, she fell in love with me X X X
You had a cat sister Pika who is still with your family. How did you get along with her? Were you good friends?
When Pika came to our house, she was rude, scratching me, and biting. Then, I calmed down, but I did not want to play X with her anymore X
If you could send a message to your family, what would you like to tell them?
Dear Family, I miss you! X
Angels are very wise. What angelic wisdom do you have for us earth beings on how we should live our lives?
Love, love is a remedy for all X X X
Can you share with us a fond memory your family has of you?
There were so many of them that it was difficult to choose. I could not be without them, and they were without me. We had to be inseparable, only together X X X
What five words best describe you?
Cheerful, polite, obedient, I loved everyone and everything, I liked to have a lot of friends X I wanted to play X all the time X
Thank you dear angel for a very nice interview. Is there anything else you would like to say to all of us?

Let's give a warm welcome to our beautiful angel royalty this week...

QUEEN SONIA! X X
THANK YOU, THANK YOU, VERY THANK YOU! X
Greetings, cats, dogs, and their families! X X X